November 8, 2023
Posted by:

TheD2MCo

Categories:

FDM technology, Manufacturing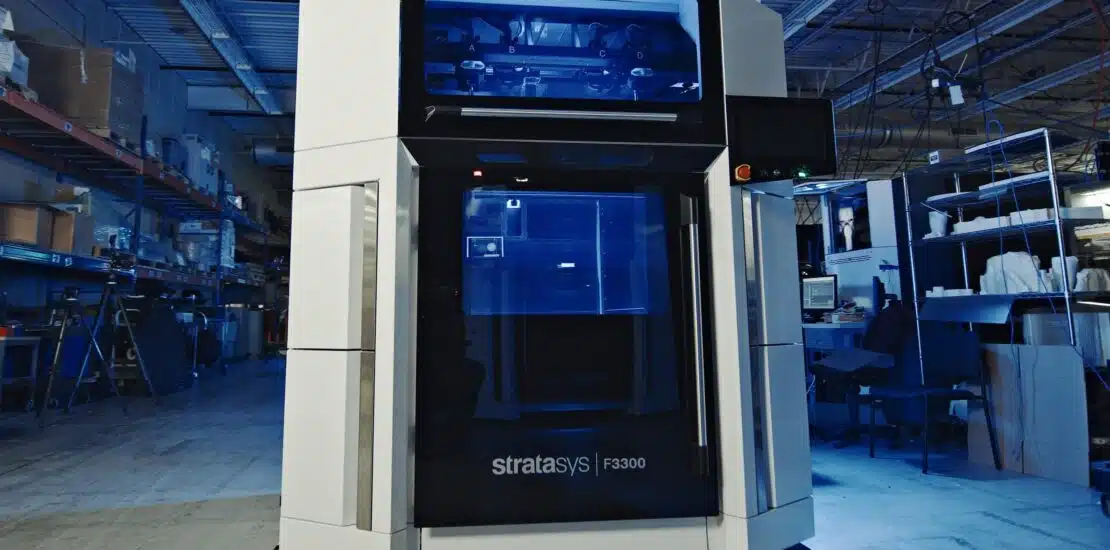 Stratasys Ltd. (SSYS), a leader in polymer 3D printing and additive manufacturing solutions will showcase its new F3300 Fused Deposition Modeling (FDM) 3D printer at the Formnext conference, November 7-10, in Frankfurt, Germany. This innovative printer offers unparalleled value to manufacturing customers with reduced labor, maximized uptime and higher part quality and yield.
This press release features multimedia. View the full release here: https://www.businesswire.com/news/home/20231102499434/en/
Built for manufacturing by the inventors of FDM, the F3300 will be the most sophisticated industrial 3D printer on the market. Its design and advanced features will transform how additive manufacturing is used in the most demanding industries such as aerospace, automotive, government/military and service bureaus. The F3300 is expected to be available for shipment beginning 2024.
Key advancements to unlock more manufacturing applications include:
Faster Print Speeds

 with increased gantry speeds, faster extrusion rates and autocalibration

Higher part quality and yields 

with up to a 25% increase in accuracy and repeatability, along with printer autocalibration

Maximized uptime 

with machine monitoring, extruder redundancy and an interface design that focuses on ease-of-use for human operators

Lower costs

 with 25-45% savings vs. other Stratasys FDM solutions
"This next-generation additive manufacturing system empowers customers to scale production and reduce the need to compromise between additive and traditional manufacturing solutions," said Rich Garrity, Stratasys Chief Industrial Business Unit Officer. "Rising global supply chain challenges, conventional capacity limitations, and application complexity are placing incredible stress on manufacturing. The F3300 will empower customers to accelerate product development, allowing them to innovate faster, overcome production challenges, be quicker to market, and maximize their return on investment."
The F3300 is the latest addition to the Stratasys FDM family which includes the F900, F770, F450mc, and the F123 series. F3300 complements Stratasys' F900, which is known for its dependability, large capacity, and use of high-performance materials.
Stratasys is hosting a special live event on November 7 at 5:30 p.m., CET to unveil the F3300. Please click here to secure your spot at the event or watch the livestream of the unveiling.
About Stratasys
Stratasys is leading the global shift to additive manufacturing with innovative 3D printing solutions for industries such as aerospace, automotive, consumer products and healthcare. Through smart and connected 3D printers, polymer materials, a software ecosystem, and parts on demand, Stratasys solutions deliver competitive advantages at every stage in the product value chain. The world's leading organizations turn to Stratasys to transform product design, bring agility to manufacturing and supply chains, and improve patient care.
To learn more about Stratasys, visit www.stratasys.com, the Stratasys blog, Twitter, LinkedIn, or Facebook. Stratasys reserves the right to utilize any of the foregoing social media platforms, including Stratasys' websites, to share material, non-public information pursuant to the SEC's Regulation FD. To the extent necessary and mandated by applicable law, Stratasys will also include such information in its public disclosure filings.
Note Regarding Forward-Looking Statement
The statements in this press release relating to Stratasys' beliefs regarding the benefits consumers will experience from using the F3300 and timing of its expected shipping are forward-looking statements reflecting management's current expectations and beliefs. These forward-looking statements are based on current information that is, by its nature, subject to rapid and even abrupt change. Due to risks and uncertainties associated with Stratasys' business, actual results could differ materially from those projected or implied by these forward-looking statements. These risks and uncertainties include, but are not limited to: the degree of our success at introducing new or improved products and solutions that gain market share; the degree of growth of the 3D printing market generally; the impact of potential shifts in the prices or margins of the products that we sell or services that we provide, including due to a shift towards lower-margin products or services; the impact of competition and new technologies; potential further charges against earnings that we could be required to take due to impairment of additional goodwill or other intangible assets; to the extent of our success at successfully consummating acquisitions or investments in new businesses, technologies, products or services; potential changes in our management and board of directors; global market, political and economic conditions, and in the countries in which we operate in particular (including risks related to the impact of coronavirus on our operations, supply chain, liquidity, cash flow and customer orders; costs and potential liability relating to litigation and regulatory proceedings; risks related to infringement of our intellectual property rights by others or infringement of others' intellectual property rights by us; the extent of our success at maintaining our liquidity and financing our operations and capital needs; the impact of tax regulations on our results of operations and financial condition; and other risk factors set forth under the caption "Risk Factors" in Stratasys' most recent Annual Report on Form 20-F, filed with the Securities and Exchange Commission (SEC) on March 1st, 2023. Readers are urged to carefully review and consider the various disclosures made throughout our 2022 Annual Report and the Report of Foreign Private Issuer on Form 6-K that attaches Stratasys' unaudited, condensed consolidated financial statements and its review of its results of operations and financial condition, for the quarterly period ended March 31st, 2023 and June 30th, 2023, which we furnished to the SEC on May 5th, 2023 and August 3rd, 2023, and our other reports filed with or furnished to the SEC, which are designed to advise interested parties of the risks and factors that may affect our business, financial condition, results of operations and prospects. Any guidance provided, and other forward-looking statements made, in this press release are made as of the date hereof, and Stratasys undertake no obligation to publicly update or revise any forward-looking statements, whether as a result of new information, future events or otherwise, except as required by law.
Note to Editors: High-resolution images and additional information are available upon request from appropriately listed media contacts.
View source version on businesswire.com: https://www.businesswire.com/news/home/20231102499434/en/
Stratasys Corporate & North America
Chris Reese
[email protected]
+1 651 357 0877
Investor Relations
Yonah Lloyd
[email protected]
+972 74 745 4919
Europe, Middle East, & Africa
Jonathan Wake / Samantha White
Incus Media
[email protected]
+44 1737 215200
Brazil, Central America and South America
Erica Massini
[email protected]
+55 (11) 2626-9229
Asia
Kalyani Dwivedi
[email protected]
+91 80 6746 2606
Source: Stratasys Ltd.
Released November 2, 2023