July 13, 2023
Posted by:

TheD2MCo

Category:

3D scanning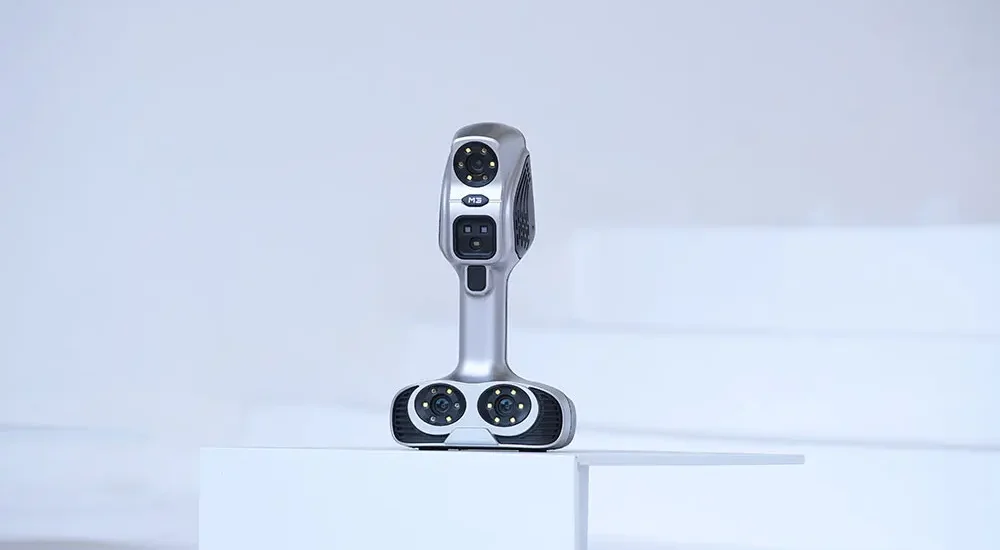 The New iReal M3 Color 3D Scanner
Scantech 3D measurement company is pleased to announce the launch of its latest 3D color scanner iReal M3 with innovative dual infrared lasers. This professional 3D scanner is aimed to make 3D measurement solutions accessible to everyone with its high performance-price ratio, easy use, and adaptability to various materials and applications.
iReal M Series Color 3D Scanner is a brand-new professional 3D scanner series. Its infrared laser and structured-light modes enable smooth 3D data acquisition in different applications, be it scanning humans or objects, inside or outside. iReal M brings professional and highly cost-effective 3D digitization solutions to 3D engineers, 3D designers, and scientific researchers to fulfil     their demands of industrial design, art design, medical design, human body digitization, etc.
Dual Infrared Lasers
Infrared Parallel Laser for Scanning Objects of Different Sizes and Materials
Different sizes (≥0.05 m)
Different materials (Including dark and reflective surfaces)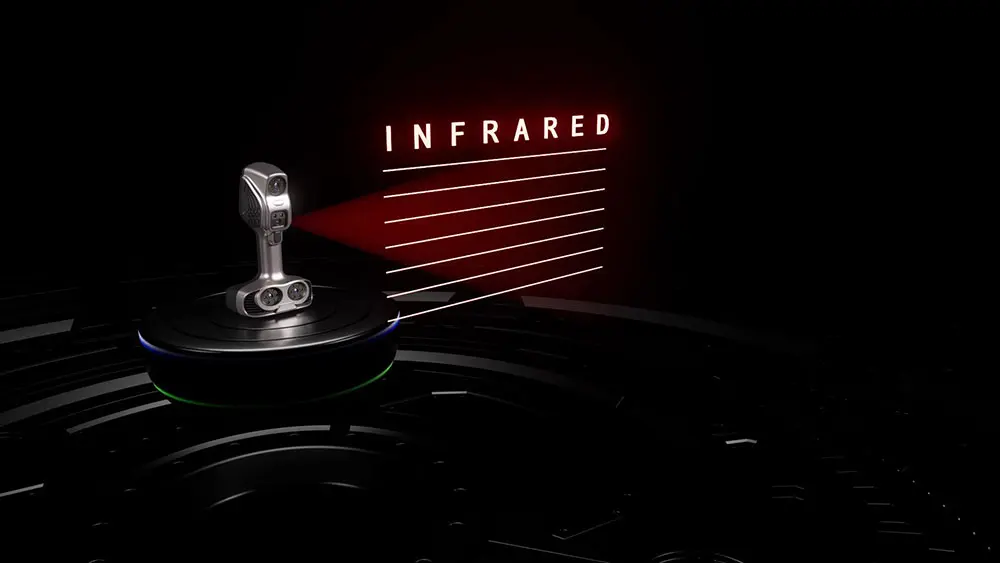 Infrared Speckle for Human Body Scanning and Medium-large Sized Objects (≥30 cm )
Human body parts, busts or full-body figures
Large and medium-scale sculptures (≥ 0.3m)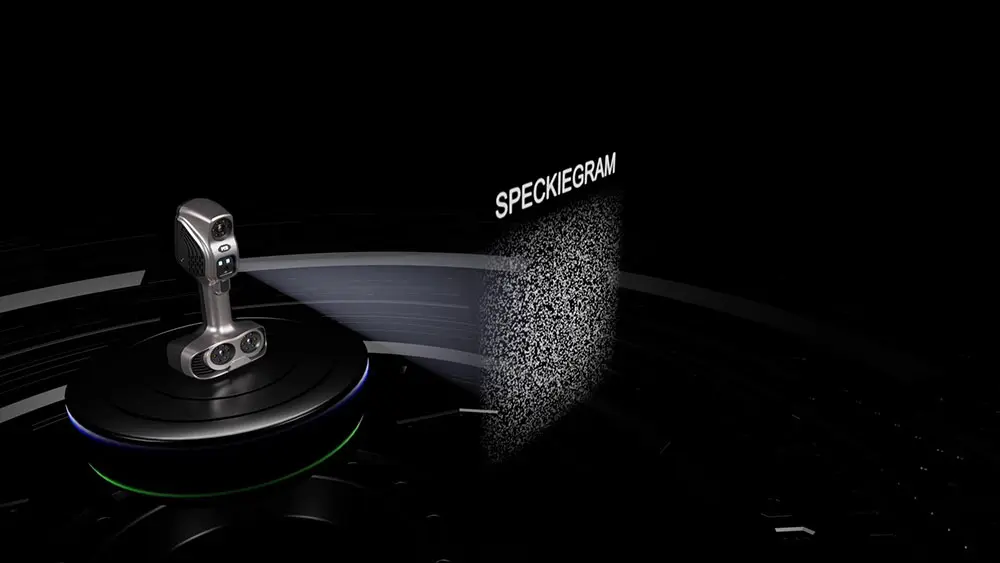 Infrared VCSEL and infrared parallel laser have respectively passed the (EU) EN 60825 laser product safety standard: Class 1 Lasers (in compliance with human-eye safety standards).
The LED and infrared fill lights, which have respectively passed the EN 62471 photobiological safety certification, are safe light sources.
"Invisible Light Scanning"
Infrared VCSEL structured light and infrared parallel laser are both invisible lights. Invisible light brings more friendly and comfortable scanning experiences than those of visible light.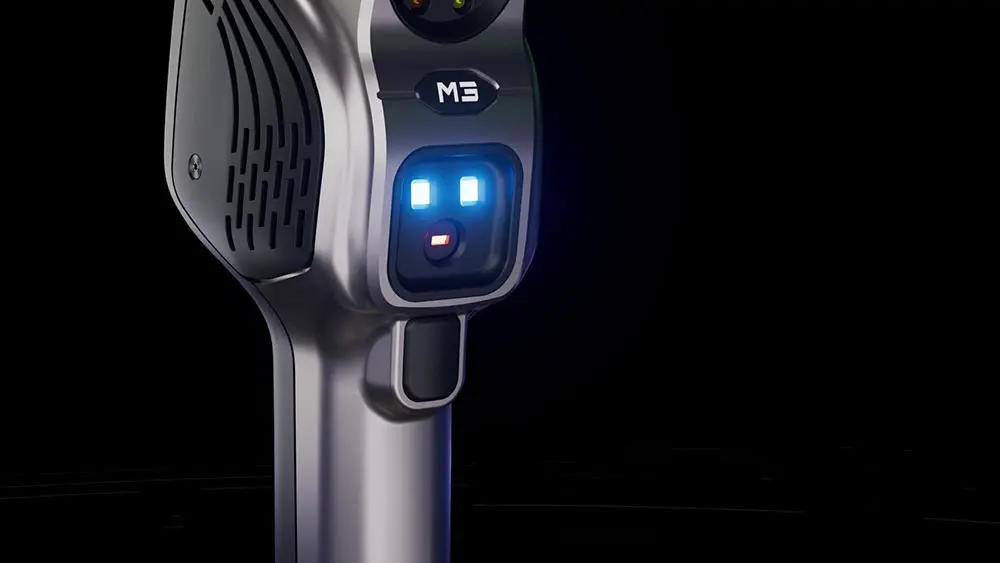 Intelligent and Independent-control Fill Light
Invisible infrared and LED fill lights can be controlled individually. When 3D scanning to capture monochrome 3D models, users can turn off the LED fill light to achieve "invisible light scanning" and enjoy eye-safe and comfortable 3D scanning experiences.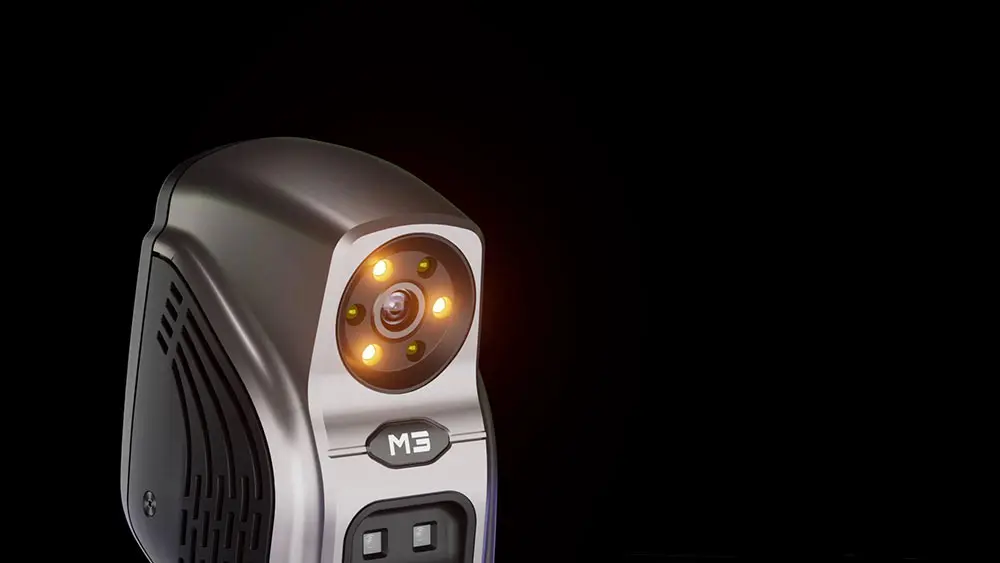 Infrared Parallel Laser for CAD/3D Printing
High-quality Data Capturing
iReal M3 features a basic accuracy of up to 0.1 mm, and a volumetric accuracy of up to 0.25 mm/m. It can meet the needs of capturing 3D data in various scenes.
Extremely High Resolution
With a resolution of up to 0.1 mm, iReal M3 can reconstruct high-resolution geometric structures and capture fine details of edges, easily handling scanning tasks for objects over 5cm.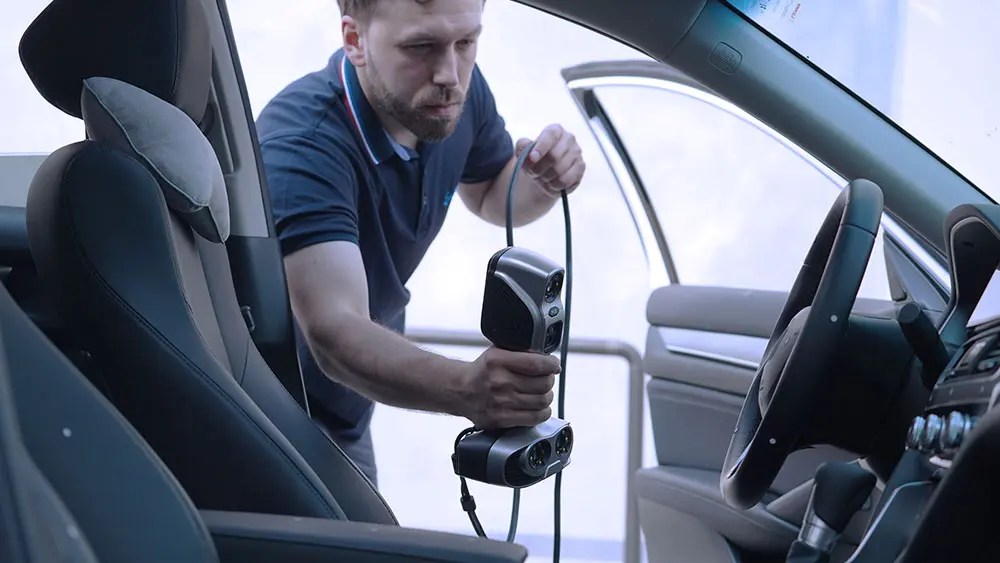 Better Material Adaptability
It is capable of 3D scanning industrial parts, automotive exteriors and interiors with black and reflective surfaces. No spray is needed for 3D scanning.
Adapt to Different Colors
Compared to colored lasers, infrared light sources (invisible light) are absorbed relatively less when projected onto the surface of different colors. Thus, the New iReal M3, paired with infrared light, can bring smoother and more comfortable scanning experiences.
High Efficiency
iReal M3's scanning rate is as high as 60 fps, which greatly improves scanning efficiency so that engineers can get high-quality 3D data quickly.
Infrared VCSEL Structured-Light for Human Body Scanning, Art and Design
Hybrid Alignment Modes
When objects have inadequate geometric or textural features, we can use hybrid alignment mode (marker and feature alignments). Just stick several markers on featureless parts and you can align scans smoothly.
Without Markers
When objects are full of continuous, non-repetitive, and richly varied geometric/textural features, you can scan them directly with geometry and feature alignment mode. The marker-free 3D scanning and one-button start improve on-site working efficiency.
Smoother, Easy to Use
Large Scanning Area: Large field of view (FOV), up to 580 mm x 550 mm, allows for fast and accurate scanning of medium to large-sized items.
Deep Depth of Field: 720-mm scanning depth of field and better operation smoothness help you get started easily.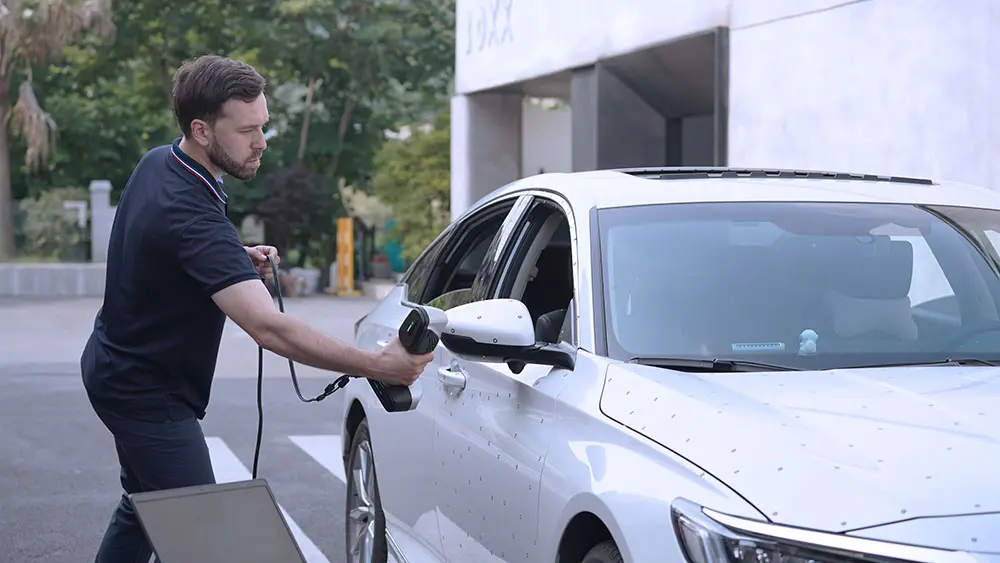 Adaptability on Dark and Light Colors
iReal M3 is optimized to scan objects with high color contrasts thanks to its unique decoding algorithm of structured-light. With its high adaptability to different colors, the software will automatically make the overall exposure as correct as possible when 3D scanning objects with dark and light colors. It is perfect for users to embrace simple and smooth 3D scanning.
Human Body Scanning
Medical rehabilitation (spinal orthopedics, prosthetics, orthopedic helmets, etc.
Customization and re-creation of artistic portraits (3D printing portraits, body art, etc.);
Customization (clothing customization, film and television armor customization, etc.)
Movie/game/VR, AR and other CG character modeling, etc.
Various Applications
iReal M3 features infrared laser and structured-light modes, which enable smooth 3D data acquisition in different applications, be it scanning humans or objects, inside or outside. iReal M brings professional and highly cost-effective 3D digitization solutions to fulfill demands of industrial design, art design, medical design, human body digitization, etc.
Art and Design
3D digital archiving, redesign, reprocessing of carvings (wood carving, stone carving, clay sculpture, furniture, etc.), 3D digital display, archiving and restoration of cultural relics, cultural and creative design, footwear and clothing design, etc.
Industrial Design and Engineering Design
Reverse engineering, CAD mechanical design, product customization, automobile modification, 3D printing, MRO (maintenance, repair, operation), etc.
Teaching and training (reverse engineering, CAD mechanical design, 3D printing design, 3D maker innovation education, etc.), scientific research, etc.
3D Measurement and Analysis
Non-contact measurements (3D surface area, volume, deformation analysis, etc.). For example, plant growth morphology analysis (trunks and potted plants), forensic identification (human trauma area, footprint identification), medical diagnosis (spine correction screening), etc.
3D Solutions
iReal 3D offers relatively complete third-party commercial software supporting solutions for iReal M3 to enable a wide range of uses in three main applications: high-precision, real-color 3D data acquisition, reverse engineering design, and 3D measurement analysis.
High-precision and True-color 3D Data Archiving and 3D Display: iReal 3D Mapping is used to map the multi-angle photos taken by mobile phones/SLRs to the 3D scanning model through an intelligent and semi-automatic process to obtain a high-precision, high-definition, real-color 3D model.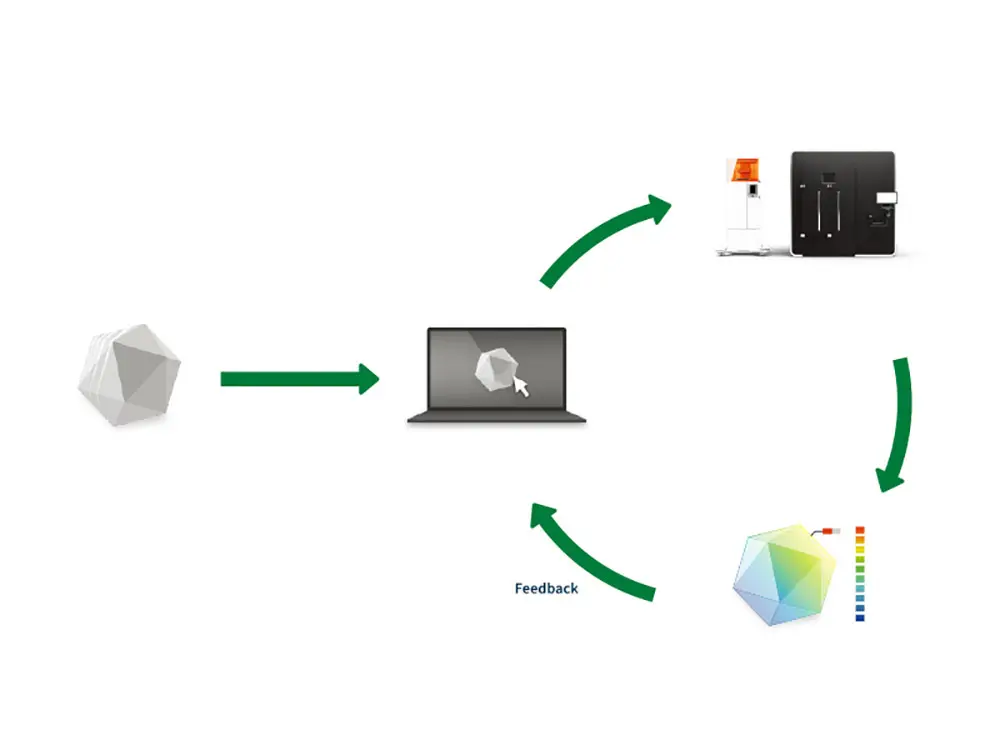 Reverse Engineering: Complementary software Geomagic Design X, QUICKSURFACE, Mesh2Surface add-in
3D Measurements and Analysis: Complementary software GOM Inspect, GOM Inspect Pro, Geomagic Control X.
ARTICLE WRITTEN BY SCANTECH.